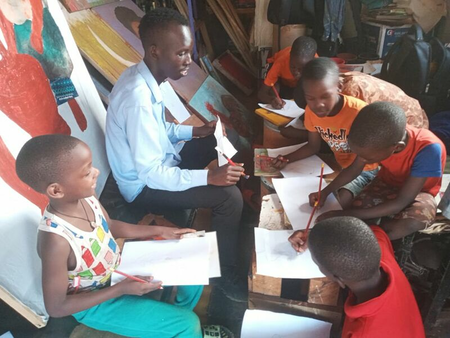 By Emily Kembabazi
Mark Koire first started taking lessons at Namungoona Children's Art Center at age 10 in 2012. Now he's 21 and a second-year Bachelor of Industrial and Fine Art student at Makerere University. But he still comes back to the Art Center on a regular basis to teach art to a new generation of children.
"When I was in primary three," he recalls, "Mr. James Nsamba and his team held an art program at our church. He invited all the children to come to the Center for free art lessons.
"James was kind to each of us and patiently explained what to do, which I appreciated. He inspired and motivated u. Instead of discouraging those who performed poorly, he showed us that the more practice we get, the better we'll get.
"My Mom encouraged me to attend the workshops because she saw James's commitment to using his talent to benefit the kids."
Now, Mark makes substantial income from his graphic design business and his artwork. He designs and produces business cards, banners, stickers, printed t-shirts, paintings, cartoons, posters, and flower vases.
"I love art, and it is now my profession. I have started earning some money from my art pieces, which I use to top up what my mother gives me to pay for my tuition."
"If it weren't for James' artistic guidance and support, I never would have realized I could do art. I received a distinction two in fine art in high school as a result of that solid foundation. I am one of the top students in my class at the university. As a token of appreciation for James and the Namungoona Art Center, I made the decision to also begin teaching the young children at the center free of charge."
Mark says his dream is to open an art studio in Bira town, where he now lives. "I know there will be a market for my artwork there," he said. "In addition, many youngsters in the neighborhood are perpetually idle; therefore, I will provide free art lessons in the studio, Just like James and the other teachers did for me. And I'll help kids develop their art skills and even earn some money by making art."