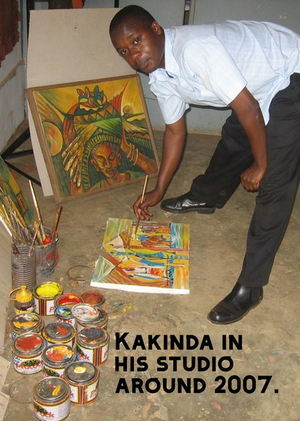 Kizito Fred Kakinda, a founding member of Uganda Art Consortium, was a professor of Art at Makerere University in Kampala. His work appeared in numerous shows and galleries in Uganda, Europe and the U.S. In addition to his teaching duties and his art, Kakinda devoted substantial time and energy to helping young artists find work space, materials and training. He was a founder of "Let Art Talk Foundation" which provided art therapy to orphans, AIDS patients, and psychiatric patients.
Fred was instrumental in establishing the art therapy programs for children and HIV-AIDS patients at Mulago hospital.
Fred Kakinda was born in Buddu Masaka District. He attended high school in St Bernards College Kiswera. He graduated from Makerere University with a first class BA in Fine art in 1994 and later with a M.A in Fine Art in 1999.
Kakinda said his inspiration came "From the ancient cave painters and Egyptian artists who used the human figure and surrounding forms as symbols of spiritual, cultural expression and identity. My modern influences include Edgar Degas and Pablo Picasso, and the indigenous Ugandan professor Musangogwantamu, Dr. Kyeyune, and Francis Taga."