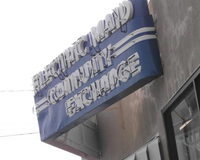 Uganda Art Consortium's 2011 art exhibition opens April 8 at Electric Maid Community Exchange, 268 Carroll Street Northwest
in the Takoma Park neighborhood of Washington D.C.
The show will feature over 70 new paintings and prints by UAC artists including paintings and prints by Hassan Mukiibi, Kizito Fred Kakinda, Charles Mbaziira, Mathias Tusiime, James Nsamba, Ivan Muganga, Moses Kiganda, Mulago Hospital HIV-AIDS Patients and the Children of Kisa Primary School.
The opening reception will be held Friday April 8, 5-8 pm. The show will be open 10-8pm Saturday April 9 and noon-5pm Sunday April 10. Call Tom Herriman, (206) 353-5978 for more information.
Two of the artists, Mukiibi and Tusiime were invited by Kisa Foundation, the University of Florida and the University of Maryland to travel to the U.S. during the exhibition. Both have been denied visa by the U.S. State Department. It is notoriously difficult these days for foreign citizens to get visas to visit the U.S. Our State Department assumes that most visa applicants are just planning to illegally over-stay their visas. It is up to the applicant to prove that they intend to go back home when the visa expires.