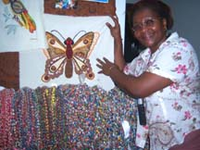 By Hassan Mukiibi
Zam Nakawoya is a single mother living with HIV. Every Thursday and Tuesday she comes to Mulago Hospital Infectious Diseases Institute for her medical check up. She has been taking advantage of the art workshops we hold there every week. As a result of our classes, she has developed a thriving business making necklaces and bracelets from paper beads made from re-cycled paper. She is earning a living and buying basic needs of her self and her two children ages 13 and 10. She has been able to pay school fees out of the art work she makes. "I have been able to teach my children to help me, and know they can make these beads also, giving us a labor force of three people," she says about her growing business.
"Having a way to make a living gives me new hope to live," Zam says. The art work also helps me occupy my mind, and not to worry to much about my medical problems."
Another workshop participant, Elizabeth Tindeybwa makes jewelery from recycled paper, and collages from fabric scraps. She said, "When I started making these beads in the workshop, I never dreamed they could be such a help to me," she says. "Many thanks to Hassan and Fred and their team may God bless them all."